Downtown Vancouver Osteopathic Clinic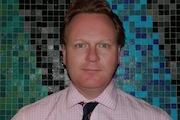 Vancouver Osteopathic Practitioner: Alex Evans
Osteopathy and Osteopathic medicine focuses on the diagnosis, treatment, prevention and rehabilitation of musculoskeletal disorders and the effects of these on patients' general health.
Using many of the diagnostic procedures applied in conventional medical assessment, our downtown Vancouver Osteopathic practitioner seek to restore the optimal functioning of the body, where possible, without the use of drugs or surgery. Osteopathy is based on the principle that the body has an intrinsic ability to heal itself, and Osteopathic care focuses on strengthening the musculoskeletal systems to treat existing conditions and to prevent illness.
Osteopathic practitioners have a patient-centered approach to health and well being which means that they consider symptoms in the context of the patient's full medical history as well as their lifestyle and personal circumstances. This holistic approach ensures that all treatment is tailored to the individual patient.
---
Downtown Vancouver Osteopathy Clinic
Electra Health Floor – 
970 Burrard Street
, Vancouver BC
Open 7 days a week from 8 am to 8 pm
604-685-4325 (HEAL)
---
Manual Osteopathy in Vancouver
Osteopathy dates back to the United States in the 1800's and has evolved into a comprehensive method of manual therapy (hands-on therapy) treating the body in a thorough, systematic way. "Osteo-" suggests treatment of the bones and joints, but Osteopathy also addresses numerous other tissues in the body including muscles and connective tissue, organs, nerve tissue, etc. Osteopathy not only benefits musculoskeletal complaints, but all of the body's systems can be affected including the digestive system, the endocrine system (relating to hormone function), the circulatory system, the "craniosacral system", the nervous system, and the circulatory system.
A primary principle of Osteopathy is to optimize circulation and nerve conduction throughout the body. Achieving this contributes to an environment where the innate healing capacity of the body can work to heal injured and compromised tissues.
In addition to having a variety of techniques to treat the body, Osteopathy views the function of the body being intimately related to its structural integrity. If there is a lack of proper movement in a structure or tissue due to trauma or cumulative imbalanced use, its function will be affected locally and also globally. The whole body can accommodate and adapt to that limited mobility and one can experience pain and other symptoms locally or elsewhere in the body. By understanding the inter-relationships within the body, the cause of symptoms can be addressed, proper mobility is restored, and the parts of the body work can together as a harmonious, integrated whole.
Vancouver Osteopathic Practitioner utilizes a variety of Osteopathic techniques…
Techniques to treat restrictions in the movement of joints:
Myofascial Release: a method of stretching and releasing restrictions in the connective tissue (fascia), a continuous web of tissue that surrounds and joins all of the muscles, bones, organs, and other structures of the body.
Cranial Osteopathy (also called Craniosacral Therapy): a method of treating the craniosacral system (cerebrospinal fluid that bathes the brain and spinal cord, and the bones and deep connective tissue between the head and the pelvis). This subtle and simultaneously deep technique can benefit symptoms such as TMJ (jaw)
Osteopathy has influenced other professions in their own development and Osteopathic techniques are often used in the professions of massage therapy, physiotherapy, and chiropractic. The Osteopathic approach includes various techniques as well as the evaluation and analysis to identify primary areas of dysfunction.
If you would like to read more about Osteopathy, in the book Spontaneous Healing by Dr Andrew Weil, chapter 2 is about an influential Osteopathic Practitioner named Robert Fulford. You can read it on Google books
[Note that manual (hands-on) Osteopathy as taught and practiced in Canada and many other countries is not he same as the practices of Osteopathic physicians in the United States today. In the United States, Osteopathy was originally practiced as a manual medicine until the mid 19th century when it was eclipsed by the rise of modern scientific medicine, also known as allopathic medicine. Today in the United States Osteopathic physician's and M.D.'s degrees are equivalent and most Osteopathic Practitoners practice similarly to M.D.'s by prescribing drugs and performing surgery and few use manual therapy as the primary modality of treatment.]
FAQ'S
What will happen when I visit an Osteopathic practitioner?

In a first consultation, an Osteopathic Practitioner will compile a full case history of the patient's symptoms, as well as information about their lifestyle and diet.
Osteopathic practitioners are trained to examine areas of the body using a highly developed sense of touch, called palpation, to determine conditions and identify the body's points of weakness or excessive strain. Osteopatic Practitioners also observe the patient doing some simple movements to facilitate diagnosis.
The patient will usually be asked to remove some of their clothing near the area of the body to be examined to allow postural assessment. If it would make you feel more comfortable, please bring a loose fitting top and shorts with you.
The Osteopathic practitioner will discuss the most appropriate treatment plan with the patient, estimating the likely number of sessions needed to treat the patient's condition effectively (usually 4 – 6 treatments at weekly intervals but this can vary from patient to patient depending on the chronicity of the problem). If the condition is unlikely to respond to Osteopathic treatment, the patient will be advised on how to seek further care.
Treatment usually lasts about 45 minutes. Osteopathy is a 'package' of care that includes skilled mobilizing and manipulative techniques, reinforced by guidance on diet and exercise. The key to this is the aim of the Osteopathic practitioner to establish the sound patient-practitioner partnership necessary for ensuring quality care.
What does an Osteopathic practitioner treat?
Electra health Floor's downtown Vancouver Osteopathic Practitioner treats a variety of common conditions including:
Sports injuries
Acute and chronic spinal pain
Headaches
Migraines
TMJ disorders
Asthma
Disc injuries
Osteoarthritis
Joint pain
Repetitive strain injuries
Postural complaints
Whiplash and accident trauma
Who do Osteopathic Practitioners treat?
Everyone from children age 5 and up, to their grandparents. Osteopathic care is chosen by many women who wish to relieve pain caused by weight and posture changes during and after pregnancy. Older children often benefit from Osteopathic treatment of a wide range of common complaints such as sinus and postural problems. For older patients Osteopathic treatment offers the option of drug-free pain relief, eases the physical wear and tear associated with ageing, and can improve mobility and reduce inflammation, all of which enhance overall quality of life and independence.
Professional athletes and amateur sports enthusiasts alike turn to Osteopathic care to treat strains or injuries resulting from sporting activities. Osteopathy can contribute to enhanced performance and facilitate the achievement of long term training goals – alleviating the symptoms of injury, preventing recurrence and assisting rehabilitation.
If you are unsure whether Osteopathic healthcare is suitable for you please contact Alex and he will be happy to advise you accordingly.
Am I covered by MSPs or health insurance? Do I need a doctor's referral?
*Important Note about Insurance Coverage and Reimbursement:
Osteopathic health care is not currently covered by MSPs in British Columbia. Although Osteopathy may be covered by your insurance company, some insurance providers have very specific requirements that you must meet in order to receive reimbursement.
Some insurance companies require that you receive a doctor's referral. Others require that your Osteopathic Practitioner be registered with a particular registration body such as the Canadian College of Osteopathy or the Society of the Promotion of Manual Practice Osteopathy (SPMPO). Still others (particularly Green Shields) require that your Osteopathic Practioner be an active registered practitioner in another field. Therefore, some insurance providers will only reimburse your claim if your Osteopathic Practitioner is also an RMT, Physiotherapist or Chiropractor.
Alex Evans is a trained Osteopathic practitioner with a Bachelor Degree in Science from the British School of Osteopathy. He is registered with the SPMPO as well as with the General Osteopathic Council.
Alex is NOT a Physiotherapist, RMT or Chiropractor. Please click here to read more about Alex's registration with the SPMPO. Please be sure to call your insurance provider to ask about your particular coverage. Clarify all requirements with them prior to booking an appointment.
Visit Alex's Website at www.downtownOsteopathy.com for more information.

---
Vancouver Osteopathy Clinic
Electra Health Floor – 
970 Burrard Street
, Vancouver BC
Open 7 days a week from 8 am to 8 pm
604-685-4325 (HEAL)
---
BACK to Electra Health Floor homepage
---
Author: