Mitra Latifiyan, Registered Midwife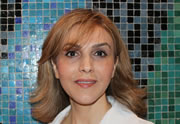 Midwifery has always been my passion. The miracle of new life has never ceased to amaze me and I feel incredibly privileged to be part of this very special time.
I earned my bachelor's and master's degree in midwifery from Tehran University. Over 10 years of experience, I practiced midwifery in various settings in Iran from clinics to maternity wards at hospitals. Meanwhile, I also taught midwifery, as a member of faculty, at a university for eight years. Attending over 1500 births during 10 years of experience, as a midwife, built my confidence.
In 2006, my family and I immigrated to Canada. I trained and certified as a DONA doula. Then I worked with many clients as a birth doula. I wanted to pursue my midwifery practice in Canada.
In 2009, I entered the Midwifery Bridging Program at UBC (MMBP) to become a registered midwife with the College of Midwives of British Columbia. I have been working as a registered midwife in Vancouver since completing the program.
I believe strongly in informed choice and because I see pregnancy, birth and motherhood as unique experiences, ones wherein women should feel respected and supported.
I look forward to caring for you during this amazing journey!
---
Mitra Latifiyan, Registered Midwife
Electra Health Floor – 970 Burrard Street, Vancouver
Open 7 days a week from 8 am to 8 pm
604-685-4325 (HEAL)
---
Midwives are covered by your BC Care Card
BC's Medical Services plan pays for midwifery services- so if you have a BC Care Card it will not cost you anything.
Women who are not currently covered by MSP (care card) have option of paying privately for midwifery care. They can contact us to discuss about this option.
There Is Free Parking for Midwifery Clients of Electra Health Floor – Please Call to Ask for Parking Spot. 
Article
Testimonials
 Mitra Latifiyan Reviewed – by: Kashmir Kaur Singh
I found Mitra Latifiyan the midwife on Google because my own doctor was not a maternity doctor. I was so pleased that she could take me in during my early stage of pregnancy. From the beginning she had good knowledge and experience of what I should do during the prenatal pregnancy as it was my first time, for example food, exercise, vitamins and overall health. I am very happy that I had met Mitra and she was wonderful in helping giving information, advice, and support during the whole pregnancy. After deliver the postnatal care was extremely good at visiting at home and giving advice, making sure baby and mommy was doing well. I would recommend Mitra the midwife for any new moms that are planning to have a baby because the support and expertise she has to offer will help a lot during and after the pregnancy.
 Mitra Latifiyan Reviewed – by: Lorri Johnson
I had the privileges of having Mitra deliver my little girl this year. She was amazing to deal with, extremely personable and caring. She is very knowledgeable and took great care of me throughout my pregnancy. She really values building a strong and trusting relationship with her clients, and always encouraged me to contact her if I had any concerns or questions. Mitra was wonderful during the delivery, in full control of situation, and giving me the confidence that I needed to trust her and the process. I value our time spent together and would absolutely recommend her as your midwife during this amazing time of your life.
Mitra Latifiyan Reviewed – by: Samantha Clarke
Mitra is a competent, knowledgeable midwife with so much wisdom to offer couples having children. We successfully delivered our baby girl at home without complication because of her outstanding care and breastfeeding went smoothly due to her experience and constant support. We highly recommend Mitra for a positive child bearing experience.
Mitra Latifiyan Reviewed – by: Mahshid
We were introduced to Mitra after the birth of our second child. She was great in helping us with both baby and mom's issues at all times. She was very knowledgeable and patient in telling us all the nuances of breast feeding and other issues relating to the baby. She also gave us many good resources on all these issues that we have passed on to others. We wished we had known her earlier for our first child. We highly recommend her.
Mitra Latifiyan Reviewed – by: Wendy De Haas
I had such a wonderful experience working with Mitra during my second pregnancy. She always listened to my personal needs and made me feel heard and genuinely cared for. She brought experience and professionalism each time I met with her and during my labour. I felt grateful to know that I was in good hands.
Mitra Latifiyan Reviewed – by: Esther
The first time I met with Mitra and up to our last postpartum appointment, I was again and again impressed and touched by her dedication to me and my precious little boy. Not only she did give me full of support through each of my appointments, she also went above and beyond accompanying me to my ECV to turn my breech baby knowing that I would be there alone. Nearing the end of my pregnancy when I had to make a decision to induce labour since I was high risk pregnancy at 44 years old, Mitra never let me feel like I was in this by myself. I never had to press her for anything regarding any concern for my or the baby's health and safety. She was always one step ahead of me, meticulously preparing the way for us. And this was especially evident when we were at hospital for nearly 23 hours of labour. I know that I could not have done it without her by my side. This has been the hardest but the happiest time of my life. I owe so much of it to my Midwife Mitra.
Mitra Latifiyan Reviewed – by: Paula Quigley
We chose Mitra as our midwife because of her wealth of knowledge and years of experience. She has a sweet and gentle personality but knows when to be firm and strong when your and / or baby's well- being is at stake. She was calm, caring and supportive. She was extremely helpful in postpartum and called to my house to help me with breastfeeding. I would highly recommend Mitra to anyone considering the midwifery model of care. Thank you for all your help Mitra!!
Mitra Latifiyan Reviewed – by: Erica, Chris and Veronica
I am extremely pleased with postpartum care that I received from Mitra. I am thankful for those early visits to the hospital and attribute my success with breastfeeding to her. She is incredibly knowledgeable and up to date with current research. With each visit, she left me feeling calm, confident, "normal" and able to tackle this new job of motherhood. She is diligent, professional and ever- so- caring. Her devotion to her clients and her career is very evident, answering phones calls at all hours. I consider myself very fortunate to have had the pleasure of working with Mitra and highly recommend her to anyone who is looking for a midwife!!
Mitra Latifiyan Reviewed – by: Meghan O.
Mitra took the time to get to know me, and to let me get to know her. I never felt rushed through appoinments, and she gained my trust completely. Her knowledge, experience and dedication is present from prenatal to postnatal care.
Mitra Latifiyan Reviewed – by: Angelina Christopher

"I felt completely safe under Mitra's care. She really understands how important it is for each woman to have the best birth experience."
Frequently Asked Questions
What do midwives do?
Registered Midwives (RM's) provide comprehensive care to women throughout pregnancy, labour and birth. We continue to care for mothers and babies during the first six weeks after baby is born.
Do I need a referral for midwifery care?
You can simply fill out the intake sheet on our website or call the office. You do not need a referral from your doctor.
When do I make my first appointment?
As soon as you find out you are pregnant.
How often do I see a midwife?
Prenatal visits are once a month for the first 28 weeks, every two weeks until 36 weeks, then once a week until your baby is born.
The first two weeks after your baby is born a midwife visits you at your home regularly. Then she visits you at the clinic for 6 weeks.
Can my partner and/or my children attend at my prenatal visits?
Certainly. This decision is yours to take. Prenatal appointments are a great opportunity for your partner to meet the midwife and have his or her questions answered.
This is great opportunity for your children to feel involved in the visits. They can help the midwife to listen to the baby's heart rate and measure your belly. We also have plenty of toys for them to play with.
Will I have access to the same tests that I would have had with a doctor?
Yes. Midwives can order all routine prenatal testing including ultrasound and genetic testing, as well as laboratory and diagnostic tests. Midwives can discuss the result with clients.
Where I can have my baby?
Midwives offer you the choice of a home or hospital birth. Whichever setting you choose, you and your baby will receive comprehensive care.
Can I have the option of using medication for pain relief if I have midwifery care?
With midwives, you have all the same choices for pain relief that you would have if you have a doctor for your care. Midwives offer a range of natural and pharmaceutical pain relief options, including epidural which is part of midwifery scope of practice. 
Pharmaceutical pain relief can be only accessed at a hospital birth. Midwives support your choice of pain relief options during labour.
What is the working relationship between midwives and obstetricians?
Midwives consult with obstetricians, pediatricians and/or other specialists if situations arise that fall outside the midwife's scope of practice. Midwives have clear indications of when to consult and when to transfer care during pregnancy, birth and post partum as set out by the College of Midwives in BC. This information is made available to midwifery clients as part of the fundamental principle of midwifery care.
For more information visit:
http://midwiferyinvancouver.ca/
---
Mitra Latifiyan, Registered Midwife
Electra Health Floor – 970 Burrard Street, Vancouver
Open 7 days a week from 8 am to 8 pm
604-685-4325 (HEAL)
---
---
Author: