Back Pain
Vancouver – Custom Foot Orthotics

heel pain

back pain

ball of foot pain

knee pain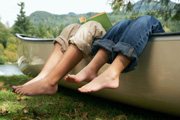 Whether you find yourself sitting in front of a computer all day or you have a job that involves more physical labor, back pain is a very common complaint among people from all walks of life. The back involves a very complex network of 33 vertebrae, over 30 muscles, multiple intervertebral discs, and numerous ligaments, not to mention all the other parts of the body that are directly connected to the back.
---
— Vancouver Foot Orthotics Clinic —
Electra Health Floor – 
970 Burrard Street
, Vancouver BC
Open 7 days a week from 8 am to 8 pm
604-685-4325 (HEAL)   YWCA – 
535 Hornby Street
, Vancouver BC
Open Monday to Friday from 8 am to 8 pm
604-685-4325 (HEAL)
---
Causes of back pain
Back pain can come about from a variety of different causes. You may experience a range of muscularstrains, for instance, when you force, twist, or pull one or more muscles in your back. The pain may or may not occur immediately, but it can become a chronic issue if these same kinds of motions are part of your regular routine. Similarly, sprains of your back ligaments can also result in a great deal of pain.
Naturally, there are many more conditions that can cause back pain as well, including herniated discs, fibromyalgia, osteoporosis, and osteoarthritis.
So, what can a regular person do to alleviate chronic back pain? A good place to start is to consult with a medical professional. Your family doctor can help to provide a more specific diagnosis, identifying the source of the pain. He or she can then refer you to a back specialist, a massage therapist, or a chiropractor. Another specialist who can be of assistance is a podiatrist.
This may almost sound counter-intuitive. Why would you want to see a "foot" doctor when it's your back that is giving you trouble? Well, the majority of back pain may not be caused by direct injury or a specific back-related concern at all. Instead, it may have to do more with posture and gait. As such, people who have imperfect gait can experience repetitive motion injuries, which in turn can lead to lower back pain.
With every step that you take, thousands of shock waves are sent up your legs and into your lower back. These shock waves can aggravate the back muscles and initiate a pain response from your body. This is oftentimes why people who experience back pain also experience pain in the feet, knees, and shins.
Back pain and orthotics
Orthotic shoes and orthotic shoe inserts can be very helpful in this regard. Because the back pain may have been initiated by a misalignment of the body or imperfections in foot structure, orthotics can restore a more balanced alignment. Simply standing in one place, your feet can cause a misaligned spine, which can then cause a great deal of strain on your back muscles and ligaments. Orthotics can help to prevent that.
Similarly, consider each step that you take. You may be wearing out one shoe faster than the other. You may be "rolling" your foot inward or outward with each step. These structural concerns can cause problems not only in the foot, but also in the back. Your feet serve as the foundation for the rest of your body, so it's understandable that they could be at the root of a chain reaction.
Your body is naturally compensating for its own imperfections (including imperfections in the feet), but these compensations can also take a drastically negative toll on your body over time. Orthotics can improve your gait and reduce these kinds of symptoms. Orthotics can restore more efficient and coordinated motion.
When orthotics are a part of a holistic approach to back pain, you can live more comfortably.
---
— Vancouver Foot Orthotics Clinic —
Electra Health Floor – 
970 Burrard Street
, Vancouver BC
Open 7 days a week from 8 am to 8 pm
604-685-4325 (HEAL)   YWCA – 
535 Hornby Street
, Vancouver BC
Open Monday to Friday from 8 am to 8 pm
604-685-4325 (HEAL)
---
BACK to Vancouver Orthotics page
---
Author: