Heel Pain
Vancouver – Custom Foot Orthotics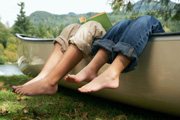 One of the more common causes of heel pain is something called plantar fasciitis. This refers to the plantar fascia, which is the fibrous tissue that connects the heel to the ball of the foot. Similar to a ligament, the plantar fascia is relatively robust, but it can also get injured. This can commonly come about due to imperfect foot structure, obesity, and prolonged standing or walking (particularly on harder surfaces like concrete). This leads to inflammation, which in turn can be quite painful..
---
— Vancouver Foot Orthotics Clinic —
Electra Health Floor – 
970 Burrard Street
, Vancouver BC
Open 7 days a week from 8 am to 8 pm
604-685-4325 (HEAL)   YWCA – 
535 Hornby Street
, Vancouver BC
Open Monday to Friday from 8 am to 8 pm
604-685-4325 (HEAL)
---
Ironically, the heel pain associated with plantar fasciitis is typically experienced after a period of rest rather than after a period of activity. Many patients will notice the greatest pain after waking up in the morning, for example. Known as post-static dyskinesia, this condition is exacerbated by long periods of standing on hard surfaces but is not experienced until a period of rest.
Another common cause of heel pain is a heel spur. Related in some regards to plantar fasciitis, a heel spur is when there is an extended growth of bone at the bottom of the heel bone. This is usually caused by chronic over-extension of the plantar fascia. These spurs develop over a long period of time and can go undiagnosed for years. Eventually, the heel spurs can make walking painful and increasingly difficult.
Heel pain can also be caused by acute injuries, tarsal tunnel syndrome (similar to carpal tunnel syndrome in the hand), stress fractures, bone bruising, rheumatoid arthritis, gout, and having either overly "flat" or overly "high-arched" foot structure. It is important to see a doctor about getting a proper diagnosis, as these multifaceted causes can be addressed by different lifestyle choices.
Vancouver orthotics & heel pain
Thankfully, custom orthotics can greatly alleviate many different types of heel pain. Taking thecommon example of plantar fasciitis, orthotics can work to compensate for imperfections in the foot structure. For instance, overly arched feet can be more properly supported by custom orthotic inserts, reducing the stretch and strain placed on the plantar fascia. As a result, the foot is better supported and, in turn, the rest of the body is better supported.
Considering that one of the best ways to combat heel and foot pain is simply to wear appropriate footwear for each activity and to wear shoes that fit well, custom orthotics can take that advice to the next level. The sole can be made to be more shock absorbent and the heel can be better supported.
While an orthotic insert cannot eliminate existing heel spurs, it can act as preventative medicine to minimize any further growth in the future. Depending on the stage and size of the heel spur, the custom orthotic may be sufficient to significantly reduce heel pain and make walking a comfort once more.
Staying in shape, taking necessary breaks, and participating in regular exercise can all contribute to the reduction of heel pain. Take better care of your body and your body will take better care of you.
---
— Vancouver Foot Orthotics Clinic —
Electra Health Floor – 
970 Burrard Street
, Vancouver BC
Open 7 days a week from 8 am to 8 pm
604-685-4325 (HEAL)   YWCA – 
535 Hornby Street
, Vancouver BC
Open Monday to Friday from 8 am to 8 pm
604-685-4325 (HEAL)
---
BACK to Vancouver Custom Orthotics page
---
Author: