Alex Evans, BSc, Osteopathic Practitioner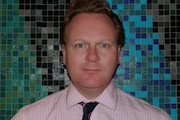 Alex graduated in 1999 from the British School of Osteopathy. Alex is pleased to have been associated with the Electra Health Floor since 2008, offering the best Osteopathic healthcare for all. He is an enthusiastic and experienced Osteopathic Practitioner treating all musculoskeletal problems.
Alex aims to provide the highest quality Osteopathic care to all his patients. He will work with his patients to relieve their pain and restore them to their usual pain free state. He is a friendly, outgoing, caring and compassionate Practitioner.
---
Electra Health Floor – Downtown Vancouver
Electra Building – 
970 Burrard Street, Vancouver
Open 7 days a week from 8 am to 8 pm
604-685-4325
 (HEAL)
---
In 1991 he sustained a serious neck injury while playing rugby in 1991. At that time he had benefited greatly from Osteopathic health care and that led to him to develop an interest in the profession. Alex went on to graduate from the world renowned British School of Osteopathy, London in 1999 after completing a four year BSc (Hons) degree in Osteopathy.
In the first year after completing his studies, Alex practiced in Hamilton New Zealand and thereafter he worked in three clinics in Devon, England. He believes that it is vital to keep up to date with further education and to that end regularly attends courses for continued professional development, so that he can continue to offer the best care for his patients.
He has a special interest in treating headaches, whiplash and sporting injuries.
Alex uses Osteopathy as a way of detecting and treating injuries in the muscles, ligaments, fascia, nerves and joints of the body. Having a highly developed sense of touch known as palpation he will gently and specifically, evaluate and treat injuries. As an Osteopathic Practitioner Alex believes that the body has the ability to heal itself and the skilled application of Osteopathic techniques (massage, mobilization and soft tissue) can improve this process.
Osteopathic treatment can be used to treat a variety of problems including:
Sports injuries
Acute and chronic spinal pain
Headaches
Migraines
TMJ disorders
Asthma
Disc injuries
Osteoarthritis
Joint pain
Repetitive strain injuries
Postural complaints
Whiplash and accident trauma
If you are unsure of whether or not Osteopathic healthcare is suitable for you please contact Alex and he will be happy to advise you accordingly.
Alex has been married to Caroline since February 2003. She works as a wind farm development consultant. Together they enjoy outdoor pursuits such as walking, running and skiing. They also enjoy fine wine and dining together.
---
*Important Note about Insurance Coverage and Reimbursement:
Although Osteopathy may be covered by your insurance company, some insurance providers have very specific requirements that you must meet in order to receive reimbursement.
Some insurance companies require that you receive a doctor's referral. Others require that your Osteopathic Practitioner be registered with a particular registration body such as the Canadian College of Osteopathy or the Society of the Promotion of Manual Practice Osteopathy (SPMPO). Still others (particularly Green Shields) require that your Osteopathic Practitioner be an active registered Practitioner in another field. Therefore, some insurance providers will only reimburse your claim if your Osteopathic Practitioner is also an RMT, Physiotherapist or Chiropractor.
Alex Evans is a trained Osteopathic Practitioner with a Bachelor Degree in Science from the British School of Osteopathy. He is registered with the SPMPO as well as with the General Osteopathic Council.
Alex is NOT a Physiotherapist, RMT or Chiropractor. Please click here to read more about Alex's registration with the SPMPO. Please be sure to call your insurance provider to ask about your particular coverage. Clarify all requirements with them prior to booking an appointment.
Pricing
Initial visit:
45 minutes – $120
Subsequent visits
45 minutes – $120

---
Electra Health Floor – Downtown Vancouver
---
Author: