Pierre Simonneau, Osteopathic Practitioner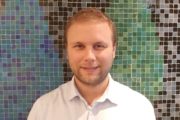 Pierre is excited to be joining us, and loves working in an environment where complementary therapy between the different professions of care is available for patients, ensuring they can receive the very best treatment.
Pierre graduated as an osteopathic practitioner in 2013 from the Osteopathic Institute of Advanced Studies (IdHEO) of Nantes, France, and has specialty training in working with infants, pregnant women, and athletes. In addition, Pierre is trained in Kinesio® Taping Method.
---
Electra Health Floor – Downtown Vancouver
Electra Building – 
970 Burrard Street, Vancouver
Open 7 days a week from 8 am to 8 pm
604-685-4325
 (HEAL)
---
After several years working across France and running his own clinic, he decided to settle in Vancouver and is now a member of Osteopathy BC, the professional association of Osteopathic Practitioners in British Columbia.
Using a patient-centered approach, Pierre brings the highest possible level of care and comfort to his patients, customizing every treatment to each individual.
Pierre focuses providing treatments in a gentle way- using techniques such as soft tissue mobilization, myofascial release, cranial osteopathy and visceral manipulation- and follows this up with home-care advice including healthy lifestyle recommendations.
About Osteopathy
Osteopathy is a patient-centered discipline that is based on understanding the relationship between structure and function in order to improve the inherent ability of the body to heal by relying on manual therapeutic techniques qualified to evaluate and treat the patient.
By using only his hands, the osteopath will seek in the body of the patient a loss of mobility of the tissues which generates the illness perceived by the patient.
He studies his patient as a whole to seek and treat the root cause of the problem, not just its consequences.
Osteopathic practitioners work cooperatively and in communication with physicians and other health care professionals to achieve the best outcomes for the patient needs.
Education & Training:
2015 Osteopathic infants approach -Level 1 & 2 (Dany HEINTZ, Eric SIMON, PARIS)
2015 Kinesio Taping Fundamentals and Advances –Level 1 & 2 (Colleen PRENDERGAST, NANTES)
2013 Diploma recognized by the French Ministry of France
2008-2013 Osteopathic Institute of Advanced Studies, Nantes, France (sister school of the faculty of Medicine, Nantes)
Experience:
2015 to 2017 own osteopathy office, Nantes, France
2013 to 2016 replacements in about 20 other osteopathy' office all around France
Pricing:
120$ – 60 minutes
Osteopathy can treat a large number of sufferings for patients of all ages and all presenting conditions such as:
Acute or chronic pain
Muscular tension, joint pain
Lower back pain, neck pain
Headaches, Sinusitis, jaw pain, dizziness
Respiratory difficulties, Anxiety, stress
Digestive or urinary problems
Sport injuries
Post trauma and post surgical healing
Pregnant woman and infants
Emotional Wellbeing
Other physical impairments
Osteopathy is primarily a form of preventive care, although an osteopath can also be consulted for chronic pathology, trauma, or injury. Checking on the structure and state of health of your body can help to limit or even avoid future muscle, joint, nervous, digestive and muscle pain and/or disorders.
If you're not sure osteopathic healthcare is right for you, ask Pierre. He will be happy to advise you, reassure you or to refer you to the best suited therapeutic care.
For further information, you can visit the osteopathybc website.
Osteopathy is not covered by the Medical Service Plan in BC.
It is however, covered by many extended benefits providers. Check with your individual plan to see if osteopathy is included.

---
Electra Health Floor – Downtown Vancouver
---
Author: