Electra Health Floor Acupuncturists
Downtown Vancouver Acupuncture
With a commitment to wellness, the registered acupuncturists at downtown Vancouver's Electra Health Floor offer acupuncture, intramuscular stimulation, and Chinese medicine. While each of our acupuncturists has their own unique specialty, they all treat patients for a wide range of health concerns. For over 3000 years, this time-tested form of Chinese medicine has been safely and effectively used to restore balance and health in a noninvasive manner. We are proud to provide downtown Vancouver with the benefits of this ancient form of safe and effective therapy.
---
Downtown Vancouver Acupuncture Treatment 
604-685-4325 (HEAL)
Electra Health Floor location – 970 Burrard Street, Vancouver
Open 7 days a week from 8 am to 8 pm
YWCA location – 535 Hornby Street, Vancouver
Open Monday to Friday from 8 am to 8 pm
---
While acupuncture originated in China thousands of years ago and has since been used in many different parts of the world, only in the last few decades has British Columbia accepted and embraced acupuncture as a safe and effective "complementary" and "alternative" form of medicine for a number of symptoms and conditions. Our patients appreciate that with acupuncture, they are able to receive this non-invasive therapy with individualized care from our highly skilled acupuncture practitioners at our therapeutic community at Downtown Vancouver Acupuncture.
Supplementary to acupuncture, treatments may include:
What Is Acupuncture?
Acupuncture involves the use of needles to access certain points on the body in order to move the body's Qi (pronounced chee), or vital energy so that proper balance is achieved. Qi, which is thought  to exist in every being, streams through the body along pathways that are referred to as meridians. It is believed that when the Qi flows freely through the meridians, proper health is maintained. Chinese medicine believes that imbalances occur in the body when the flow of Qi is disrupted, and illness can occur when the body experiences such an imbalance in Qi.
With acupuncture needles, the acupuncturist restores the correct flow of blocked Qi using specific acupuncture points on the body. This acupuncture treatment results in the patient experiencing a decrease in pain, relief of pain, or resolution of illness, and a general relaxed state. At Downtown Vancouver Acupuncturists, each patient is examined on an individual basis, which means that the exact placement of needles will vary for each patient and each acupuncture treatment.
MORE INFORMATION: click here
The Benefits of Acupuncture Treatment
There is a long list of conditions, symptoms, injuries, and illnesses that are successfully treated by our acupuncturists, including: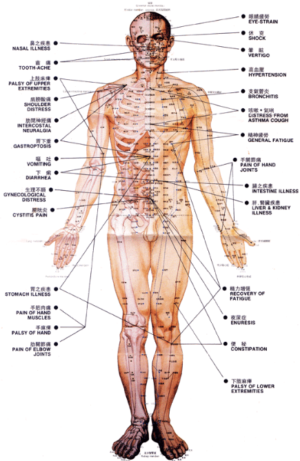 Irritable bowel syndrome
Fertility issues
Anxiety, depression, nervousness
Muscle pain and strain
Back pain
Arthritis
Plantar fasciitis
Achilles Tendonitis
Digestive issues
Nausea and vomiting as a result of chemotherapy treatments
Rehabilitation from stroke
Morning sickness, nausea due to pregnancy
Allergies
Our downtown Vancouver acupuncturists treat sports injuries with acupuncture as well as intramuscular stimulation (IMS):
Shin Splints
Acromioclavicular (AC) Joint Dysfunction
Bursitis
Plantar Fasciitis
Lateral Epicondylitis (Tennis Elbow)
Medial Epicondylitis (Golfers Elbow)
Other sports injuries: sprains, strains, swollen muscles, etc.
Our downtown Vancouver acupuncturists also provide treatment for these conditions:
people trying to quit smoking
Cosmetic acupuncture (more info: acupuncture & wrinkles & cosmetic acupuncture)
In Vitro Fertilization (IVF) acupuncture treatment
Helping promote labour and turn a breech baby (more info: click here)
These are some of the many conditions that acupuncture effectively and safely treats. Please contact one of our acupuncturists if you don't see your health concern listed, and would like to know how acupuncture may help you.
---
Downtown Vancouver Acupuncture Clinic 
604-685-4325 (HEAL)
Electra Health Floor location – 970 Burrard Street, Vancouver
Open 7 days a week from 8 am to 8 pm
YWCA location – 535 Hornby Street, Vancouver
Open Monday to Friday from 8 am to 8 pm
---
What To Expect During Your Acupuncture Appointment
While many of our first-time acupuncture patients arrive with apprehension, there's no need to worry. Our first-time patients will find that visiting the acupuncturist is a bit different than visits to most other healthcare practitioners. During the first part of your appointment, your acupuncturist will ask you a series of questions, the acupuncturist will then take your pulse on your wrist, or tap other points on your body using their hand, and might also take a look at your tongue. The exam while taking into account environmental factors, lifestyle, and the whole person: mind, body, emotions, and spirit. Your acupuncturist will be able to assess the best way to approach your individually-tailored acupuncture treatment regime. 
Acupuncture Treatment
Once the patient has consulted with their acupuncturist, he or she will have determined exactly which points to use for the maximum benefit. The thin acupuncture needles are then inserted at specific acupuncture points on the skin. While most needles are inserted just into the skin, the acupuncturist will be able to determine exactly how deep into the skin each needle will need to be inserted. Once inserted, acupuncture needles may be removed immediately, or left in place for about 30 minutes, depending upon the treatment your acupuncturist has decided would be most beneficial for your situation. Each patient's response to acupuncture varies, but many will immediately experience a feeling of relaxation and relief of symptoms. For others, relief may be experienced in a few days. And for some patients and certain conditions, return visits will be needed in order for the patient to receive a series of acupuncture treatments. 
Common Concerns
The most common question we are asked by those who are new to acupuncture is if the acupuncture needles hurt. While most patients have experienced the use of hypodermic needles by their physicians, the typical acupuncture needle is much thinner and is about 1 cm to 3 cm in length. Acupuncture needles are usually thinner than a strand of hair, and actually flexible. Because of the size of the needles, and that they are not inserted deeply into the skin, some people will notice little to no pain when needles are inserted, but for the most part, acupuncture treatment should not be painful. Once inserted, patients may experience a tingling, stinging, or warm sensation at the point where the acupuncture needle was inserted.
Another concern is regarding hygiene. To minimize the risk of infection, the acupuncture needles used by our acupuncturists are disposable, pre-sterilized, come in sealed packages, and are disposed of after each use. 
More About Electra Health Floor
The acupuncturists at The Electra Health Floor are dedicated to providing our patients with the latest professional integrative healthcare, quality, individualized treatment, and a supportive, caring experience in a comfortable environment with a team approach. Our patients benefit by having access to not just acupuncture, but also the wide variety of services offered at The Electra Health Floor such as massage therapy, homeopathy, naturopathy, physiotherapy, and psychiatry. For convenience to our patients, we are open 7 days a week, with 2 locations in beautiful downtown Vancouver.
Begin Your Journey To Wellness With Acupuncture
If you are interested in acupuncture as a safe, noninvasive, drug-free type of therapy for pain relief, mental wellness, injury recovery, digestive issues, or to further yourself down the path of health and general wellness, you are welcome to browse our website to learn more about acupuncture, the acupuncturists at  at our downtown Vancouver acupuncture clinic, and the services we offer.
We invite you to contact our office to learn more about how acupuncture, intramuscular stimulation, and the other services we offer at The Electra Health Floor can help you on your journey to wellness.
---
Downtown Vancouver Acupuncture Treatment 
604-685-4325
(HEAL)
Electra Health Floor location – 970 Burrard Street, Vancouver
Open 7 days a week from 8 am to 8 pm
YWCA location – 535 Hornby Street, Vancouver
Open Monday to Friday from 8 am to 8 pm
---
Electra Health Floor - Acupuncture
Downtown Vancouver Acupuncturists
Phone: 604-685-4325
Back to Electra Health Floor homepage
---
Author: