Cindy Ma, R.Ac.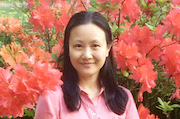 Cindy comes from a family with extensive experience in the Traditional Chinese Medicine (TCM) field. Her grandma was an Acupuncturist and her uncle was a distinguished Doctor of TCM and a professor at the HuaXi Medical University of Chinese Medicine in Chengdu. She grew up in the Sichuan province and was exposed to Traditional Chinese Medicine as a young child. She was brought up and nurtured by the magnificent ancient wisdom and philosophy, the Tao, which teaches to follow nature's way.
---
Acupuncture Vancouver BC (downtown)
Electra Health Floor – 
970 Burrard Street
, Vancouver BC
Open 7 days a week from 8 am to 8 pm
604-685-4325 (HEAL)
---
As an adult, she worked for an international company that exported a variety of health products overseas and that was how she came to North America. She spent many years providing health products to hospitals and while she was doing this work she began to build the foundation for her multifaceted holistic practice by incorporating medical, nutrition, wellness, meditation among other aspects. Through such an experience, she recognized the value that acupuncture can provide to a range of people. Together with the Tao, she believes people can pursue ultimate health and longevity. It is not just a dream for people suffering all kinds of mental or physical pain. Her Tao Acupuncture can recover your body with positive energy.
Cindy has been developing her passion for TCM for over 10 years now. During this time, she has been certified by a Master in Tao on the highest truth of Tao Oneness, the Universal Laws and Principles of all things, which she implements well into her daily practice. Tao Oneness tells us that all meridian channels connect with our internal organs. She also received mentorship from experienced practitioners of Acupuncture and Chinese Herbs, which allowed her to receive positive feedback on her practice. Cindy is currently registered as an active acupuncturist and a prescribed TCM Practitioner in British Columbia with the CTCMA. She continues to fuel her passion for TCM with extensive and ongoing academic pursuits.
Cindy treats a variety of health concerns including anxiety, depression and sleep disorders, migraines, low energy, gastrointestinal dysfunction and more. Regular treatments can be beneficial for those interested in managing the symptoms of daily stress, chronic pain, improving digestive health and boosting overall energy. Her treatment includes Acupuncture (head, face, body), Cupping, Scraping, ear seeds etc. She also enjoys collaborating with other health care professionals in the co-management of a patient's condition.
As Cindy says with confidence: "Acupuncture is an art following the natural way. The effectiveness of the treatment mainly comes from your willingness, trust and cooperation. I am just a carrier, follow the Tao, open the blockages of your body, strengthen your energy! Your immunity system will get stronger and your body circulation will flow naturally!"
Education & Training:
Registered Acupuncturist & prescribed Traditional Chinese Medicine Practitioner in BC, Canada
Master Degree from Cal State University, Hayward, USA
Certified Tao Oneness practitioner and Zen meditator by Tao Master
Pricing:
All appointments are 50 minutes – $105
Techniques & Treatments:
Pain Management: sports injury, whiplash, strains and sprains, acute/chronic back pain, sciatica pain (Piriformis syndrome), neck and shoulder pain, frozen shoulder, tennis elbow, golfer's elbow, carpal tunnel syndrome, knee and ankle pain, Achilles tendonitis, plantar fasciitis
Headaches and migraines
Facial paralysis
Anxiety, depression, anger,
Insomnia
Digestive Issues – indigestion, stomach pain, diarrhea/constipation
Tinnitus, decreased hearing
Quitting smoking
Women's health – PMS, menstrual dysfunction (painful, early, late, irregular)
Low energy, chronic fatigue
Stroke rehabilitation
More Internal medicine, External medicine, Obstetrics and Gynecology, Pediatrics, Orthopedics and Traumatology related
Back to Acupuncture Vancouver Treatment Clinic
---
Author: