Chiropractic Activator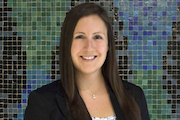 The Activator is a handheld adjusting tool that delivers a quick, gentle force to the spine, in order to bring correct alignment and movement to the bones of the spine.
Vancouver Chiropractor, Dr. Laura Gronkjaer
Electra Health Floor – Downtown Vancouver
Electra Building – 970 Burrard St.
Open 7 days a week from 8 am to 8 pm
604-685-4325 (HEAL)
Often when we think of chiropractic treatment we think of manual manipulation, where the hands are used to move the bones of the spine. Activator adjusting is used for the same purpose as manual manipulation, but how the treatment is delivered is different. There is no need for the patient's body to be moved or twisted to apply the adjustment in the correct direction, as the Activator can be angled in the chiropractor's hand and the adjustment easily delivered in the desired direction. In fact, during an Activator treatment, the patient will be laying in a neutral position. The patient will feel the chiropractor's hands on their spine as they locate the joint that they need to adjust, and then the patient will feel the quick impulse of the tip of the Activator as the adjustment is made. The impulse is low force and patients report that the adjustments are gentle and comfortable. There is no "popping" or "cracking" that is usually heard during a manual manipulation.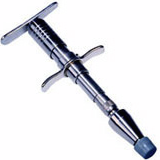 One reason the Activator adjustment is able to achieve such effective results with minimal application of force is that the impulse is delivered so quick that the patient's muscles are less likely to tense up, allowing the joints to be moved without having to push through the tension of a tight and guarding muscle.
The Activator has undergone extensive research over the years, and hundreds of clinical and scientific peer-reviewed papers have been published on this treatment method. Systematic reviews of the literature have shown that Activator instrument adjusting and manual manipulation are equally effective in treating the spine.
Activator adjusting is very common within the field of chiropractic. It is considered the second most common form of treatment, after manual manipulation. Recent surveys found that 69% of chiropractors use Activator to some degree within their practice.
Activator adjustments are safe and effective for a wide variety of patients, from children, pregnant women, and elderly patients, to weekend warriors and competitive athletes.
Vancouver Chiropractor, Dr. Laura Gronkjaer
Electra Health Floor – Downtown Vancouver
Electra Building – 970 Burrard St.
Open 7 days a week from 8 am to 8 pm
604-685-4325 (HEAL)
BACK to Downtown Vancouver Chiropractor home page
---
Author: