Treating Back Pain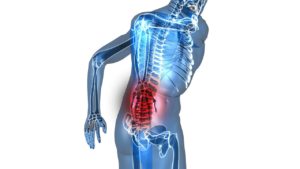 Back pain is one of the most common injuries to affect Canadians. We just weren't designed to sit stationary for extended periods. However, the nature of modern work often means we are planted in front of a screen for the better part of the day. This can result in many health issues, including nagging back pain. Back pain can interfere with every part of your life: from lost hours at work, to enjoyment and satisfaction of life.
If you- or someone you care about- experiences lower back pain, here are some general tips to help.
Tip 1: Apply ice to the problem area. Ice is best for the first day or two after a small injury to help reduce inflammation. Heat can "feel good" but can encourage the inflammatory processes. After 48 hours heat can be helpful after the swelling comes down. Whether you are using heat or ice, apply for just 15 minutes at a time.
Tip 2: Movement is essential. Our joints don't have an oxygen-rich blood supply as the rest of our body does. Rather, joints use motion to move healing restorative nutrients around. Keep doing what you can without increasing the pain (like your regular, daily activities). Just don't

overdo

it. Listen to your body.

Tip 3: Stay strong. After your back pain has subsided, consider strengthening your core. I'm not talking about cross-fit or running a marathon. Rather, it's easy to strengthen your core with simple daily exercises that everyone can do. The most important core muscles include the back extensor muscles. When these muscles are strong, they can protect your spine from long days of sitting. Avoid harmful abdominal crunches as they can strain your spine and cause further problems.
Tip 4: Set up a spine-friendly workspace. If you know you will be sitting for many hours, think ergonomically. Design your space, so you don't have to hunch forward. Use a desk chair with lower back support. Have your mouse close and comfortable. If you are adventurous, practice left-handed mousing (or non- dominant hand mousing). This can reset your overused arm and shoulder.
Word to the wise:
See your chiropractor if back pain is severe, isn't getting better day by day, or if it hurts without reason when resting or lying down. Weakness or numbness are not typical and can be symptoms of more severe conditions. Our chiropractors are highly trained and specialise in spinal and neuromuscular health.
BACK to Chiropractic Vancouver
---
Author: