Healthy For The Holidays

The holiday season is a joyful time of year!  It is also a common time of year that we put on additional unwanted weight!  We have holiday parties with sugary and fattening foods tempting us at every turn. Home baked goodies and sweet dessert offerings are difficult for most of us to deny.  Indulging in all the festivities and holiday parties with these sugary and fattening foods can significantly increase our weight.  In addition, the high sugar content of the holiday foods can impair our immune system and make us more susceptible to cold and flu season! 
Each year I see patients that put on 3 to 15 pounds because they over indulge at every holiday party as they consume too many calories.  Alternatively, some patients put on extra weight because they get sick with cold and flu symptoms over the holidays and skip their exercise regime as they constantly eat holiday food that friends and family are dropping off. 
The question I get year after year in the clinic is: "How do I get through the holidays without getting sick and putting on weight?"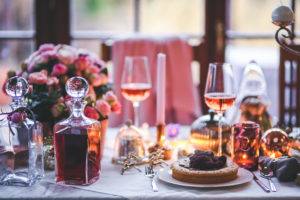 Here are Dr. Jordan's tips for this holiday season will help navigate you to a stress free, healthy and balanced holiday season!
1.  When going out to someone's house for holiday festivities, make sure to snack beforehand. You want to avoid showing up starving and eating everything offered to them and take multiple offering. By eating beforehand, we can limit our seconds and thirds and fourths!  It's okay to eat our favorite holiday food, but do not overindulge. Eat before the party and eat in moderation!
2.  Keep track of what you are eating with a diet diary. Making a list of the foods we consume is a great way to keep ourselves accountable over the holiday season. Studies show that when people record the foods they consume, they tend to eat less. Simply record the foods that you eat in a note on your phone, or better yet, put your meals and snacks into an app such as "My Fitness Pal". This app will record not only the foods you are eating, but also the amount of calories and nutrients you are consuming. Once you reach your daily limit, its time to put down that sugary and fattening food!
3.  Make your house a safe zone over the holidays! When friends come over for holiday dinner, ask them to bring healthy food choices. Opt to send any unhealthy leftovers home with your guests, so that any indulgence lasts only one day rather than three or four. Opt to fill your plate with half vegetables at each sitting and keep your house stocked with healthy options for in between the treats and big holiday meals. You don't have to give up the foods you love, but there are many ways to modify them so they don't throw you way off track. For example, healthy dessert recipes available now that still have the comforting flavours that we are craving. Apple Pie Crumble Bars anyone?  Or how about Creamy Pumpkin Pie Bars?
4.  Boost your immune system before you get sick!!!! Many people get sick over the holidays and eat comfort foods to make themselves feel better. They end up putting on weight because they are eating sugary and fattening foods and are less active than usual. The goal is to NOT get sick, so we are not tempted to eat those comfort foods which packs on the extra weight. Choose healthy, live foods with immune boosting benefits. Fill your plate with lots of vegetables to give you an abundance of vitamins and minerals to kick the cold before it comes. Dr. Jordan also recommends getting an Immune Boosting IV or simply come in with your kids and receive our "Natural Immune Booster."  The Natural Immune Booster aka "NIB", can be given intramuscularly or applied orally for kids and those who are not fond of needles.  The Immune Booster IV's can be given to prevent cold and flu's as well as if you are experiencing cold and flu symptoms.  The goal with the Immune Booster IV is to keep you feeling healthy! Dr Jordan wants to boost your immune function, so that you don't get sick when that flu bug is going through the office. Come in for our famous Natural Immune Booster Shot or IV!
5.  Do you have a holiday party planned almost every weekend?  Not going to the gym as often as you would like? Too much work? Too much to do and too little time? When times get hectic, we tend to skip out on going to the gym, our favourite yoga class or our early morning runs.  Looking for an easy solution? Come our clinic for a MIC Metabolism Booster Shot. Dr. Jordan uses MIC (methionine, inositol and choline) to stimulate your metabolism when you do not have the time to exercise! Ideally, we want to use exercise in combination with the MIC injection to boost metabolism; however, sometimes we just need a little boost to help us out over the holiday season when we can't get to the gym. The MIC formula is comprised of: Inositol, which helps the liver remove fat; Choline, which distributes cholesterol and prevents it from getting deposited in the body; and Methionine, which is similar to inositol, but also amplifies the combination.
If you have any questions regarding the Dr. Jordan's tips and treatments please call the clinic to get more details.
BACK to Vancouver Naturopaths
---
Author: