Calvin Wong MPT, CAFCI, CGIMS
Certificate of Anatomical Acupuncture, Intra-muscular stimulation, Craniosacral therapy (CS1 + CS2)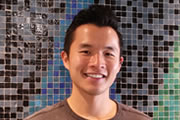 Calvin has completed his Master degree in Physical Therapy from the University of Western Ontario, and holds a Bachelors in Kinesiology from McMaster University. Calvin enjoys using the Integrated Systems Model (Lee & Lee), an approach that empowers clients by optimizing the performance of movement. As part of this client specific approach, Calvin often utilizes his extensive post-graduate training in spine and joint manual therapy, active release techniques (ART), Craniosacral therapy (CS1 + CS2), Intra-muscular stimulation (IMS), and anatomical acupuncture. Calvin often utilizes these manual techniques in combination with corrective therapeutic exercises to allow his clients to find optimal movement strategies to enhance function and performance. Calvin has helped numerous clients recovering for motor vehicle accidents, recreational and competitive sports injuries and repetitive overuse injuries. 
---
Electra Health Floor – Downtown Vancouver
Electra Building – 
970 Burrard Street, Vancouver
Open 7 days a week from 8 am to 8 pm
604-685-4325
 (HEAL)  
---
Calvin has developed a special interest in treating Oro-facial pain, headaches and temporomandibular/jaw joint disorders.  Calvin Also has a special interest in Men's Health issues including rehabilitation of the male pelvic floor post prostatectemy,  and evidence-informed interventions for prostatitis like pain, testicular, scrotal, penile pain and sexual dysfunction.
Outside of his work as a physiotherapist, Calvin enjoys snowboarding, cross country skiing, rock climbing, cycling and trail running.
Education & Training:
Bachelors of Kinesiology, HBKin, McMaster University: 2008
Master of Physical Therapy, MPT, University of Western Ontario: 2010
Certificate of Anatomical Acupuncture, Acupuncture Foundation of Canada
A.R.T. Active Release Techniques for the Upper Extremity
Discover Physio Series: 2012
Level 2 Manual Therapy for the Upper/lower Extremities, BC Orthopedic Division
Craniosacral Therapy (CS I + II), Upledger Institute
UBC Gunn IMS – Intramuscular stimulation/Dry Needling
Manual Therapy for the Myofascial System
Techniques & Treatments:
Manual Therapy for the Spine and Extremities
Soft tissue/myofascial release
IMS/Dry Needling
Postural and biomechanical Analysis 
Movement pattern training and therapeutic exercise
Active Rehabilitation
Sport Specific retraining
Craniosacral Therapy
Pricing:
Initial 55 minute assessment and treatment: $125
Subsequent 55 minute treatment: $130
Subsequent 25 minute treatment: $80
Article:
---
Electra Health Floor – Downtown Vancouver
---
Author: