Maria Baljak, BSc (KIN), MPT, CAFCI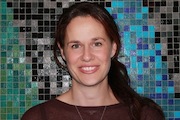 Maria Baljak's interest in health began from personal experiences gained while rehabilitating from various sports injuries at an early age.
Maria went on to complete a degree in Kinesiology at Simon Fraser University that provided a strong foundation in Anatomy and Exercise Physiology and led to work with varsity athletes and fitness training in the community. These experiences together with her interest in travel brought her to England where Maria completed her degree in Physiotherapy in 2002. 
---
Electra Health Floor – Downtown Vancouver
Electra Building – 
970 Burrard Street, Vancouver
Open 7 days a week from 8 am to 8 pm
604-685-4325
 (HEAL)
---
A broad range of clinical experiences led to post-graduate work in manual therapy, acupuncture, craniosacral therapy, soft tissue release techniques, movement pattern re-training, postural biomechanics and mind/body work. These techniques are highly effective for treating acute injuries as well as musculoskeletal and neurological imbalances that can arise from repetitive stress to the body. Maria Baljak's holistic, client-directed approach to practice is focused on maximizing your function and optimizing your overall health and well-being. Appointments can be made with Maria Baljak at Electra Health Floors' Physiotherapy Vancouver (Downtown) Clinic. 604-685-4325.
Pricing
55 Minute initial assessment/treatment – $125
Subsequent visits: 55 Minutes – $125
Back to Physiotherapy Vancouver Clinic
---
Author: