Marlon Uy, RPT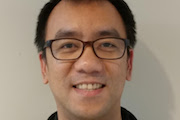 Marlon Wong Uy, is a BC-registered (2011) physiotherapist who has been in practice since 1999 in a wide-variety of settings in several countries (Canada, UK, Turks and Caicos Islands, Saudi Arabia and the Philippines).  Currently affiliated with two local health authorities in the lower mainland doing acute care hospital work dealing with a wide-variety of cases  (ICU, orthopaedics/musculoskeletal, neurological to medical- surgical and respiratory conditions). 
---
Electra Health Floor – Downtown Vancouver
Electra Building – 
970 Burrard Street, Vancouver
Open 7 days a week from 8 am to 8 pm
604-685-4325
 (HEAL)
---
He believes in an eclectic and evidence-based approach to management and treatment of his clients along with empathy and good listening skills .    His travels has exposed him to different healthcare systems, service delivery,  treatment styles and culture. 
Like his work, Marlon engages in a variety of activities in his spare time .  He swims regularly,  takes dance lessons,  concocts in the kitchen, travels to places and joins various local meetups enjoying what this multi-cultural city has to offer.
Education and Training
1998- Bachelor of Science in Physical Therapy (Davao Doctors College, PHILIPPINES)
Awarded as the "Most Outstanding Physical Therapy Intern"
2001 Case presenter in an international symposium (Jeddah, Saudi Arabia) –  "Rehabilitation of a replanted hand"
Attended various training and courses (In-hospital education-Canada, UK, Saudi Arabia and Turks and Caicos Islands and private seminars and lectures) 
Subscribes to an American online continuing education platform since 2013 (Medbridge) –  from leading authorities in various specialties in PHYSIOTHERAPY
Experience
Local
October 2015  to current:   Fraserhealth- Royal Columbian hospital (New Westminster) – various units
August 2011  to current:   Vancouver Coastal Health- Richmond General hospital- casual work for various units 
August 2011  to current :  Burnaby clinic
September 2014 to Oct 2015:  Yale Road Center-PATH unit, Surrey, BC
August 2011 to September 2014:  Fraserhealth- Burnaby General Hospital
International
March 2010 to December 2010:      Cheshire Hall Medical Center (Providenciales, Turks and Caicos Islands)-  in and out-patients
October 2008 to September 2009:  CareUK- Level C- Royal South Hans hospital  ( Southampton, Hampshire UK)-  in and out-patients, home-visits
April 2005 to September 2008:         Care UK- Barlborough NHS Treatment Center ( Barlborough, Derbyshire UK)-  in and out-patients
September 1999 to July 2003:           King AbdulAziz hospital and Oncology Center ( Jeddah, Saudi Arabia) – in and out-patient, rehab center
Pricing
Initial and subsequent 55 minute assessment and treatment: $125
Subsequent 25 minute treatment: $77
Treatment and Techniques (but not limited to):
Soft tissue, Myofascial/Trigger points release
Joint mobilisations
Use of thermal and Electromodalities (heat, cold,electrical stimulation, ultrasound)
Biomechanical and postural assessments and re-training 
Exercise presription (stretching, strengthening, balance, propriception)
PNF technique- proprioceptive neuromuscular facilitation
Postoperative rehabiliation ( fractures fixation, joint replacements,  soft tissue repair, neurosurgery)
PEMF- Pulsed Electromagnetic Field therapy (Health Canada- approved) – For fracture healing ( applicable even with limb in cast), soft tissue injuries and other applications
---
Electra Health Floor – Downtown Vancouver
---
Author: