Selenia Iacchelli MSc. PT, BSc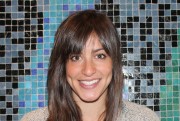 Selenia graduated from the University of Alberta with her Masters in Physiotherapy in 2012. She completed her bachelors at the University of Nebraska in Nutrition Exercise Science while playing Division I NCAA soccer. Selenia has been a member of the Canadian Women's National Soccer team at both youth and senior levels for 13 years.  Upon graduation, Selenia played professionally across Europe and North America for numerous clubs including the Vancouver Whitecaps women's team.
---
Electra Health Floor – Downtown Vancouver
Electra Building – 
970 Burrard Street, Vancouver
Open 7 days a week from 8 am to 8 pm
604-685-4325
 (HEAL)
---
Using her athletic and clinical experience, Selenia brings a unique perspective in managing various injuries and providing rehabilitation programs. Through a combination of manual therapy techniques and progressive exercises, she focuses on the correction of muscle imbalance and movement patterns in order to restore proper biomechanics for both acute and chronic musculoskeletal injuries.  Selenia specializes in joint mobilizations, soft tissue and fascial techniques and focuses her attention on patient education and injury prevention.   
Selenia is passionate about helping her patients set and achieve realistic and effective goals so that they can return to their everyday activities they love. 
Education & Training:
Completed Masters in Physiotherapy -2012
Completed Level 1- Ortho division
Kelly Starrett's Crossfit Movement and Mobility Trainer Course  
Personal Training certificate ACE certified- 2008
Post graduate training in Manual therapy & Soft tissue mobilization
Techniques & Treatments:
Joint mobilizations
Soft Tissue Mobilization

IMS/ DN certified 

Kinesiotape provider 

Deep tissue Massage
Trigger point release
Passive and Active stretching and strengthening
Muscle Energy Techniques
Myofascial Release
Movement pattern re-training
Postural biomechanics re-training
Pricing:
$125 – 60 minute Initial Physiotherapy Assessment
$80 – 30 minute Subsequent Physiotherapy Session
$110 – 45 minute Subsequent Physiotherapy Session
$130 – 60 minute Subsequent Physiotherapy Session
$100 – 30 minute Initial/Subsequent Shockwave Therapy
Testimonial:
Selenia Iacchelli – Reviewed by Carla H
.
"

…made me appreciate Selenia's calm, attentive and cheerful demanor all the more."

 
I went to see Selenia Iacchelli in January 2013 for physiotherapy treatment for low back pain that had begun in the previous weeks. She did a careful assessment, asking thorough questions about all the problem areas I noted (which also included my neck and shoulders.) Through a combination of manual therapy, traction, and muscle stim therapies during therapy, as well as stretches and strengthening exercises, I was able to regain mobility and was so relieved when pain was also gone. I had had trouble with the smallest movements, and even sitting or lying down could be agony. It was a very distressing situation, and it made me appreciate Selenia's calm, attentive and cheerful demeanor all the more. She was not afraid to try something new or change course if we felt things were not progressing, or if I described a new symptom, and that made me feel like I was always at the centre of the treatment process. As a result, I have no hesitation in recommending Selenia as a physiotherapist. 
Rating:
Selenia Iacchelli – Reviewed by Carmelina M. (Canadian National Team Member- London 2012 Olympic Bronze medalist)"…love her desire to continue to want to grow and challenge herself"I have been treated by Selenia Iacchelli multiple times for various injuries, as well as some maintenance work over the past two years. I have not only left her session feeling better but also educated on what my injury was exactly and how to proceed with the appropriate homework. Selenia is also one of those people who brings her light and smile to every day and it really impacts the great energy in her work and healing. I particularity love her desire to continue to want to grow and challenge herself. The sky's the limit for Selenia and I'm grateful for her treatments and help along the way.
Rating: 5
Selenia Iacchelli – Reviewed by Mark D."I have sinced booked my whole family in to see Selenia for all their ailments…" I first met Selenia Iacchelli when she worked in Edmonton at the tri leisure centre. She was very personable and kind.  I came to see her for a pain I was having in my wrist and hand after pulling my gym bag out of the trunk. After my initial assessment Selenia had said that this pain was actually being being referred from a pinched nerve in my neck. After receiving a total of 3 treatments of manual therapy from Selenia on my neck my pain disappeared. I was back at work in no time. Selenia is very knowledge in her field. She always looks at the whole body and not only the injured area to figure out the root of the problem. I have since booked my whole family in to see Selenia for all their ailments as I have so much trust in her abilities. I would highly recommend anyone to go see Selenia for physiotherapy treatment.
Rating: 5
---
Electra Health Floor – Downtown Vancouver
---
Author: