Trina Lee, RPT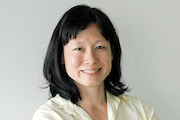 Trina received her qualifications from the University of South Australia in Adelaide and has completed extensive professional education courses to enhance her skills. She is half-Singaporean and half-Australian and has worked as a physiotherapist in private practices, hospitals and senior long term care in Singapore, USA and Canada for over 15 years. Her fascination with movement come from a history of dance, gymnastics and figure skating.  Currently, she figure skates for both leisure and exercise and is actively involved in non-profit Canada Ice Dance Theatre, an organization that runs a skating school and puts on performances. She also loves travel and the outdoors. In order to reduce pain and enhance a person's physical potential, she aims for optimal ABCs (A-Alignment B- Balance C – Centeredness).  This is a whole body approach that takes into consideration the physical structure, internal organs and each individual's emotions, beliefs and life situations. 
---
Electra Health Floor – Downtown Vancouver
Electra Building – 
970 Burrard Street, Vancouver
Open 7 days a week from 8 am to 8 pm
604-685-4325
 (HEAL)
---
She works with the patient to find the root of the problem and address core issues. All sessions are 100% hands on, using massage, fascial release, joint mobilizations, muscle activation and other techniques to achieve as optimal ABC as possible.  Treatment plans also include training in correct movement patterns and avoiding dysfunctional ones.  She assists patients to optimize their bodies and the way they sit, stand, walk, run and move. Correct movement becomes a new way of life that is carried over into all daily activities.  When the body is aligned, balanced and centred, often pain is eased and the body becomes a more efficient machine.
Education and Training
Bachelor of Applied Science in Physiotherapy, University of South Australia
Integrated Systems Model and Connect Therapy Part 1 to 4
Visceral Manipulation
Craniosacral Therapy
Neural Manipulation
Muscle Energy Techniques
Advanced Orthopaedic Manual and Manipulative Physiotherapy Level 2
Lyn Watson shoulder course
Shirley Sahrmann course on Movement Impairment Syndromes
Back to Golf for physiotherapists
Pricing
Initial assessment and  treatment – $125
Subsequent 60 minute treatment –  $150
Subsequent 45 minute treatment –  $120
Subsequent 30 minute treatment – $80
All sessions are hands-on
Techniques and Treatments
Integrated Systems Model
Connect Therapy Model
Massage and Myofascial Release
Joint Mobilizations
Muscle Energy Techniques
Visceral Manipulation
Craniosacral Therapy
Movement Training
Posture Training
Sport & Exercise Therapy
Testimonials
---
 Trina Lee – Reviewed by Beverley
"…Trina provides dynamic physiotherapy care by her ability to assess"
I sought help from Trina for a longstanding low back condition which has proven particularly difficult to treat and stabilize. In particular, I appreciate Trina's carefully measured and integrative approach to her physical therapy model.
She takes the time to diligently assess and evaluate the presenting symptoms. The process then focuses on the underlying contributing physical factors with the result being that she ends up treating the causes, not just solely the symptoms. I have personally experienced the benefits of this strategy which has assisted in providing a foundation for healing my back issues. Trina is able to adjust her physical therapy approach to the stages of healing in a person's body throughout the process of care. Trina's continual assessment and treatment techniques enable her to provide extremely effective holistic care with outstanding results. In short, Trina provides dynamic physiotherapy care by her ability to assess, her compassion to understand, and her talent to treat.
Review: 5
---
 Trina Lee – Reviewed by Eva
"…Trina provides dynamic physiotherapy care by her ability to assess"
Review: 5
---
 Trina Lee – Reviewed by Denise
"Trina methodically discovered and treated the underlying problem…"
Trina is a gifted practitioner with a holistic approach to health and well-being. I came to Trina with inexplicable foot pain that made walking painful. I was under the care of a podiatrist at the time and had sought relief through other means including reflexology, massage therapy, acupuncture and weekly foot treatments with a chiropractor. Nothing seemed to help and I was getting depressed at the prospect of life with little movement.
Trina focused on my body's alignment, rather than my foot. I started her treatments with skepticism but came to trust her instinctive sense for movement and balance. Trina methodically discovered and treated the underlying problem and taught me to walk in proper alignment. I no longer limp in pain — and I'm enjoying the simple pleasure of walking again. Life is good! Heartfelt thanks Trina!
Review: 5
---
 Trina Lee – Reviewed by Matt Stansfield
"I look forward to continuing to work with Trina…"
After spending 45-minutes with Trina, I left Oceanside Wellness Centre with an awareness and understanding of not only what my new reality could become living without physical limitation, but at the potential that I'd yet to realize. Simply put, she accomplished in one session what no other specialist had accomplished in over 8 years; in 5 sessions she's accomplished what I never thought would be possible again. I look forward to continuing to work with Trina, and being given the tools and knowledge to help realize my full potential. If you're looking for a Registered Physiotherapist, there's simply no better choice available than Trina Lee at Oceanside Wellness Centre. Before finding Trina, I'd only ever experienced immediate relief and an improved range of motion through working with a Chiropractor and working with a Naturopath going through both prolotherapy and neural therapy. The issue, however, was inevitably having to go back on a weekly basis as the relief and improvements I'd experienced were always short-lived. In turn, I gave in to the fact that this was going to be my reality and would ultimately have to work within my physical limitations.
Review: 5
---
 Trina Lee – Reviewed by Tom
"She took time to understand my concerns…"
As a new client of Trina, she treated me with respect and professionalism. She took time to understand my concerns, and applied effective therapy techniques that greatly relieved my discomfort. Trina also provided helpful exercise techniques I could do myself which further aided in my timely recovery. Finally, Trina made herself available via e-mail if I had additional questions or requests. I would like to thank Trina for the care and attention she applies to her physiotherapy practice.
Review: 5
---
 Trina Lee – Reviewed by Lori
"She provided good suggestions…"
I wanted to see a physiotherapist for a pinched nerve in my left hip, from a run-in with a dog. She provided good suggestions to combat the tingles and scar tissue which was holding back some of my flexibility. Trina also noticed that I had less space between my shoulder blades which was just one of the reasons for my chronic back pain. After suffering with a bad back for years, it was thrilling to hear that I could get rid of my back pain with some simple conditioning and exercises. I would gladly recommend Trina to someone looking for answers with mobility, nerve tingling and discomfort.
Review: 5
---
 Trina Lee – Reviewed by Lanny
"She's also helped me with my reoccurring headaches…"
Trina has helped me deal with a knee injury from a motorcycle accident and provided good exercises and tips to help me strengthen it. She's also helped me with my reoccurring headaches which I've had periodically all my life. One of her suggestions to help alleviate the discomfort was to lift my shoulders, which has really helped support my neck and lessen my neck ache. I would recommend Trina to those that are suffering that want to pro-actively regain their mobility.
Review: 5
---
 Trina Lee – Reviewed by Emerald Lau
"She is very professional…"
I am an active mother of two and recently injured myself by tearing my MCL on the left knee. After treatment at St. Paul's Hospital and having to be on crutches for 4 weeks, my doctor advised me to have a physiotherapist treat the knee to heal it. I met with Trina who started me off with a consultation to assess the problem. She is very professional and thorough and does not hurry me through the process. In addition to treating the pain with massage therapy and manipulating the muscles, she spent time to research and pinpoint the cause of the injury. What we discovered was that my hip was twisting in an abnormal manner every time that I walked, so she taught me to re-learn to walk properly and re-train the muscle to be stable as I walked. I felt much better after having a series of pain relief treatments. I am very grateful to Trina for her professional manner and insight into my treatment, and I highly recommend her practice to those who are seeking an answer to pain or injury.
Review: 5
---
 Trina Lee – Reviewed by Brian Lee
"Trina introduced a new technique of physiotherapy treatment…"
As an avid sportsman, I have suffered from sports injuries from time to time over the years. To this day, these injuries include back, knee and leg pain. I have consulted both medical and healthcare professionals such as physiotherapists, chiropractors, sports doctors and even orthopaedic surgeons for my injuries, pain and shoulder fracture. Invariably, the various modes of treatment have had the desired effect of reducing or eliminating the pain at the affected parts of my body. Over the past fifteen years, Trina has been treating me for my chronic back pain. Recently, I have experienced a fairly severe back, knee, leg and foot pain, resulting from a collapsed and weak foot arch. Trina introduced a new technique of physiotherapy treatment whereby she has manipulated and mobilized my foot structure, resulting in strengthening of my knee and leg. I became more conscious of walking with an arch on my left foot, thus eliminating the overall pain.
Review: 5
---
 Trina Lee – Reviewed by Anonymous Online Comment
"I highly recommend her…"
I just had a great first visit with Trina Lee, RPT …  She seemed very knowledgeable and competent both in her assessment skills and treatment techniques. As someone who has logged literally hundreds of hours on treatment tables, I can definitely recognize a quality practitioner. I also would recommend her for patients who require a more sensitive approach in the hands on treatment. She is a caring, skilled and respectful professional that could give seminars to others. I highly recommend her and plan on going back for more in the future.
Review: 5
---
Electra Health Floor – Downtown Vancouver
---
Author: